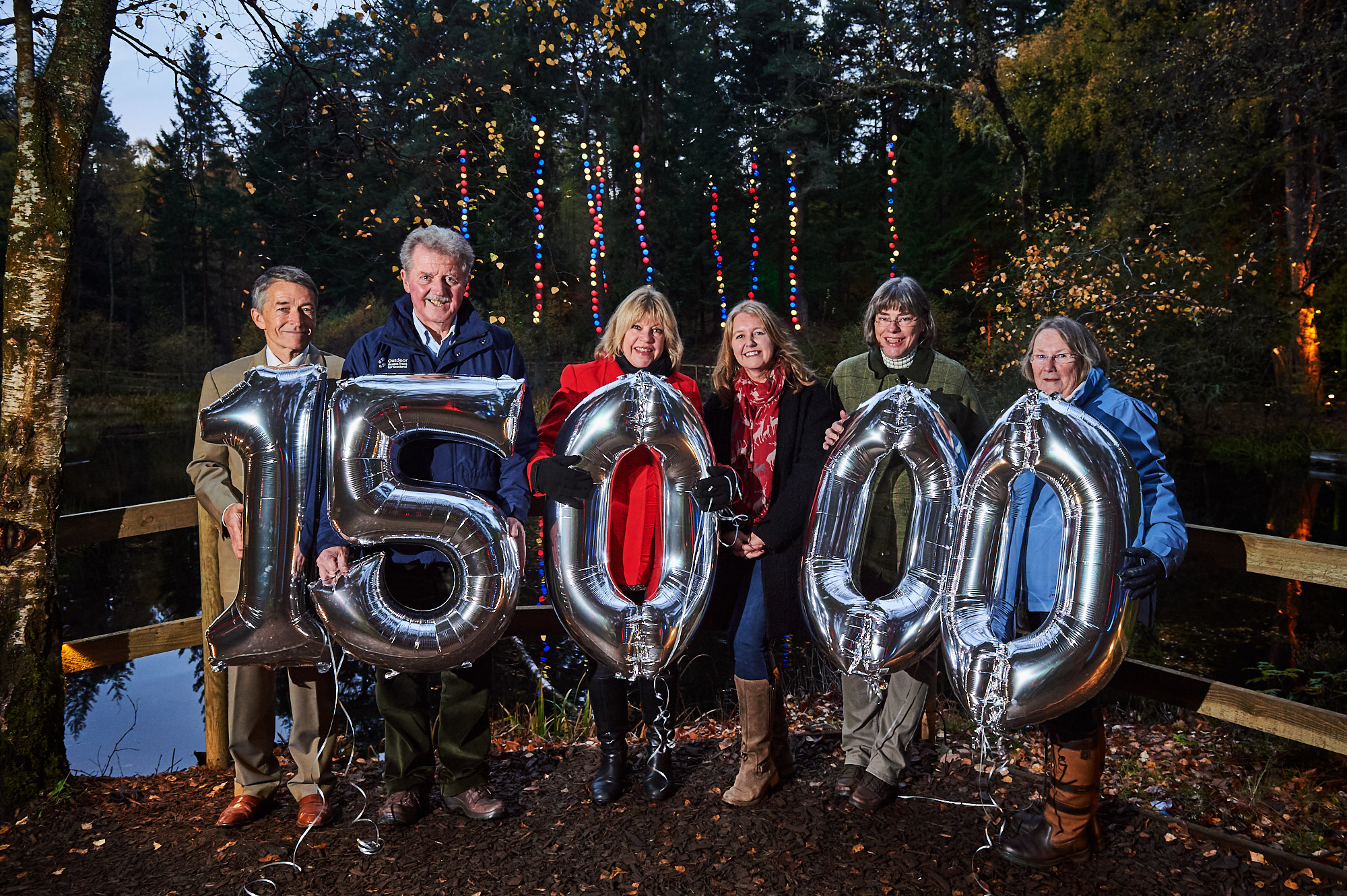 The Enchanted Forest, Perthshire's multi award-winning sound and light show, has confirmed today that just over 80,000 visitors attended this year's sold-out show, which closed on Sunday night (November 4), a 9% increase on the previous record-breaking year.
Event organisers have also announced that its three official charity partners – Birks Cinema Trust, Outdoor Access Trust for Scotland and Blairgowrie Riding for the Disabled – have each received a donation of £5000.
This year's show Of the Wild captured the public's imagination around the globe with international visitors one of the fastest growing audience segments. International visitor numbers have jumped from around 0.97% of audience share in 2014 to 2.97% of audience share in 2018, and with more than 85% citing the event as a reason for travelling to Scotland, they represented more than 28 different countries.
The growth in the profile of the event in recent years saw it take the title for the Best Outdoor Festival at the Scottish Outdoor and Leisure Awards 2017, and it is also up for a coveted Visit Scotland Thistle Award later this year.
It is estimated that The Enchanted Forest's impact on the local tourism economy is around £3 million per annum with around 55.6% of visitors to the event this year choosing to stay overnight in the area on their visit and over 93.7% citing the event as their main reason for visiting the area this Autumn.
Of The Wild was inspired by the hidden beauty of Highland Perthshire's wild woods and the multi-award-winning creative team of Zoë Squair (creative producer), Kate Bonney and Simon Hayes (lighting designers), and RJ McConnell and Jon Beales (sound design and composition) delivered a show that was firmly rooted in nature and full of breathtaking visuals, state-of the-art technologies, interactive special effects and a dazzling music score.
The sound and light spectacular released a record 80,000 tickets for its extended five-week run from October 4 until November 4 and, as has almost become the norm, again broke all previous box office records and sold out midway through the show's run.
Ian Sim, chairman of The Enchanted Forest Community Trust, which operates the event, said:
"Once again The Enchanted Forest Community Trust, the charity that runs The Enchanted Forest, is completely blown away by the response to the event. We're delighted it has smashed yet another of its own box office records. This is very much an event run by the community of Highland Perthshire and the team behind it are really exceptional, from the creative team who devise the concept, our show producer Zoe Squair and brilliant operations team to the stewards who stand out in the woods night after night for five weeks. The Enchanted Forest's success is testimony to their hard work and commitment to providing a top quality family-friendly experience for our thousands of customers.
"We're also extremely pleased that the event has also been able to contribute to three very worthwhile charity partners and support them in their work in the community. Birks Cinema Trust, Outdoor Access Trust for Scotland and Blairgowrie Riding for the Disabled have all received donations of £5000 each."
The Enchanted Forest returns in 2019 and tickets are available for sale from Monday, November 5, at www.enchantedforest.org.uk
https://www.enchantedforest.org.uk/wp-content/uploads/2018/11/Charity-Partners-2018-1999x1330.jpg
1330
1999
admin
https://www.enchantedforest.org.uk/wp-content/uploads/2019/06/TEF-Green-Logo-1024x476-xxx-300x139.png
admin
2018-11-05 13:38:39
2018-11-05 13:38:39
The Enchanted Forest confirms record visitors and charitable contribution